HEYEDRATE LID AND LASH CLEANSER
Fights  bacteria on the skin and mucous membranes with
0.015% hypochlorous acid, electrolyzed water, and sodium chloride.

This eyelid cleanser is organic, vegan, and free of alcohol, fragrance, parabens, sulfates, and preservatives. 
Clean eyelids help alleviate
dry eyes, blepharitis,  meibomian gland dysfunction, styes, red, itchy eyelids, and contact lens related dry eye.
HEYEDRATE OMEGA-3 FOR EYE HEALTH
930 mg of Essential Omega-3 Fatty Acids - 515 mg EPA & 415 mg DHA
 stimulates and enhances tear production and reduces inflammation and irritation.   
40 mg Omega-7
 improves oil gland function leading to more moisturized eyes, hair, and nails.  
50 IU Vitamin E & 100 mg Vitamin C
 are strong antioxidants that prevent damage and promote healing on the eye's surface
10 mg Vitamin B-6
increases tear production
20 mg Magnesium
repairs the eye's surface, decreasing dryness and irritation
10 mg Lactoferrin
reduces redness and soreness by stimulating tears and aiding in healing the dry eye surface
Click here for more details
HEYEDRATE TEA TREE OIL SOAP
Can be used for acne, rosacea, blepharitis, demodex eyelash mites, meibomian gland dysfunction, itchy, inflamed skin conditions, and increasing contact lens comfort.
Tea Tree oil kills microorganisms, neutralizes inflammation, and prevents reproduction of demodex eyelash mites.
Contains

organic green tea, organic olive oil, organic cocnut oil, raw shea butter, and tea tree essential oil.
HEYEDRATE DRY EYE MASK
Helps provide relief for dry eyes, puffy eyelids, and sinus headaches - This reusable
lavender and flaxseed eye mask
not only provides effective warm and cold therapy for the eyes, but is also super comfortable and relaxing to use.
Easy to use heat for dry, sticky, irritated eyes - Simply microwave for 15-20 seconds. Place the warm compress over closed eyes for 15 minutes.  Freezer safe for use with allergies and sinus headaches - Place in the freezer for at least 2 hours, then lie over closed eyes for 10 minutes.
Click here for more details
Add All Four To Cart for FREE Shipping + FREE Warm Compress
Dry Eye Relief Kit Includes: 
1 oz Heyedrate Lid and Lash Cleanser
1-Month Heyedrate Omega-3 for Eye Health
1-Pack Heyedrate Tea Tree Oil Soap

FREE

Heyedrate Dry Eye Warm Compress Mask

FREE

Shipping
Save Even More With 3-Month Supplies
Heyedrate Lid & Lash Cleanser
4-Month Supply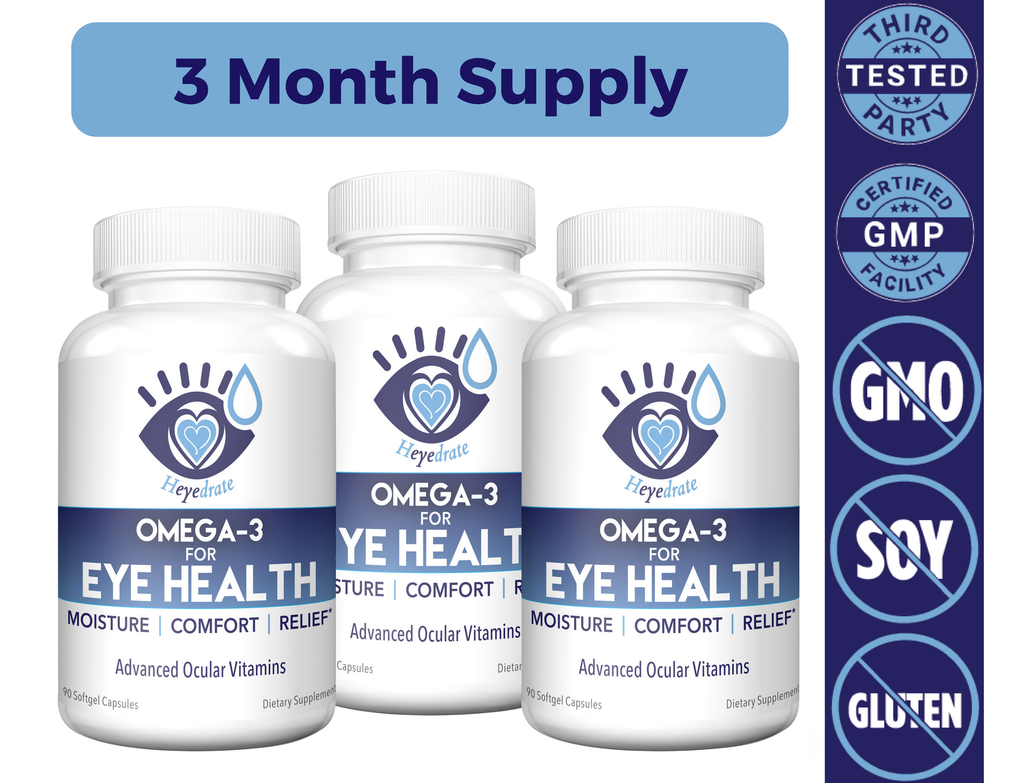 Heyedrate Omega-3 for Eye Health
3-Month Supply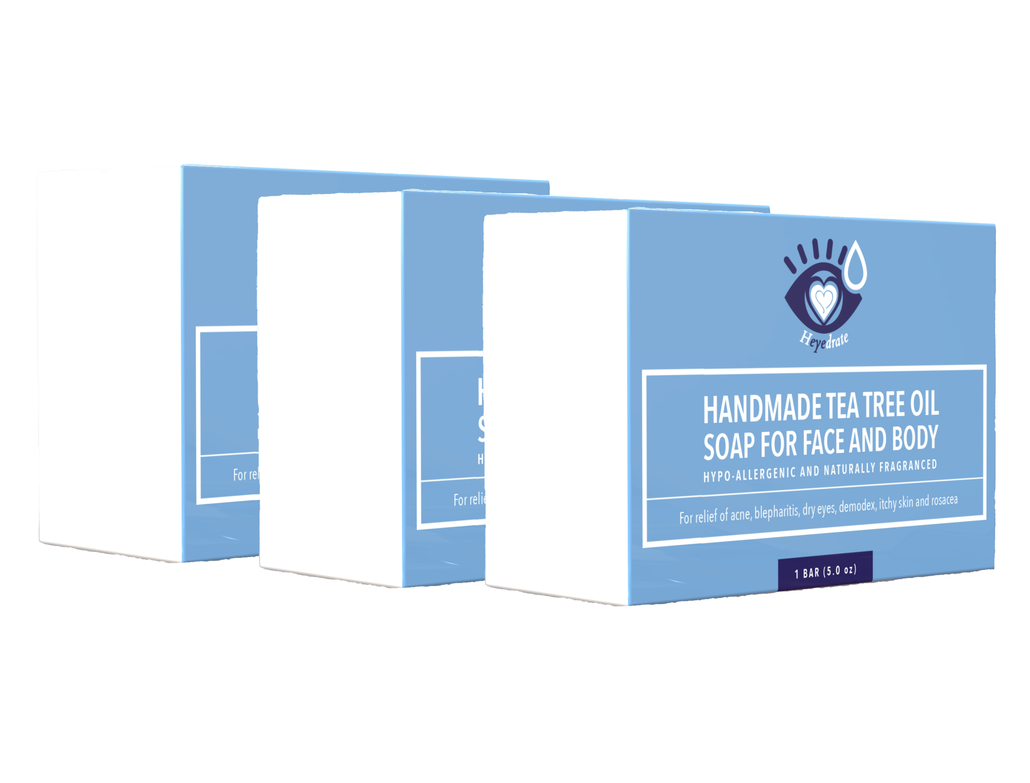 Heyedrate Handmade Organic Tea Tree Oil Face Soap
3-Pack
HEYEDRATE EYE MAKEUP REMOVER OIL

Do you love wearing makeup but always find yourself with red, irritated eyes? Did you know that it may be because you're not properly removing your eye makeup? Yuck! Heyedrate's
Tea Tree Eye Makeup Remover
safely removes all of your stubborn eyeliner and mascara, without the use of harsh chemicals -- and ensures your eyes stay healthy and comfortable for a lifetime.
Easy to use: Apply 2-5 drops to a cotton round or ball. Gently cleanse the eyelid area with oil, motioning back and forth to remove eye makeup. Follow by cleansing face with Heyedrate Tea Tree Soap. Rinse and pat dry with a soft towel. After dry, apply 1-2 sprays of Heyedrate Lid & Lash Cleanser for maximum results.
Click here for more details
LUTEIN & ZEAXANTHIN VISION SUPPLEMENT

We all spend too much time on our computers and cell phones, bathing our eyes in blue light. But are you aware of the damage that this blue light exposure can cause? The Lutein and Zeaxanthin Vision Supplement by Heyedrate provides protection for just that -- and enhances your eye health for a lifetime of great vision.
Easy to use: Just one (1) quick release softgel per day provides 20 mg of Lutein and 1 mg of Zeaxanthin, which fight aging eyes and enhance macular and retinal health to preserve your best vision.
Click here for more details
Dr. Jenna Zigler's Nightly Routine for Dry Eye, Blepharitis, Acne, and MGD Relief
Purchase all three products mentioned in the video!
Heyedrate's Beauty Bundle Includes:
1 oz Eye Makeup Remover
1 Tea Tree Oil Soap Bar
1 oz Lid & Lash Cleanser
Rethinking Dry Eye Treatment (PDF)
by Dr. Travis Zigler
The Dry Eye (PDF)
by Dr. Jenna Zigler
Age-Related Macular Degeneration
by Dr. Jenna Zigler
Why Buy From Eye Love?
Eye Love is leading the way in socially conscious sun wear and eye wellness. There are many great reasons to buy from us. We are a fast growing company because we always put the customer first. A customer-centered shopping experience has always been our goal and we pride ourselves in our comprehensive policies that have put us in a realm above and beyond our competitors. Shop with us today and see the Eye Love difference.
Here are just a few of the reasons why you should buy from us:
100% satisfaction, money back guarantee.

Secure ordering available

Brand new products

Courteous, knowledgeable and professional support: call us at 1-888-EYE-LUV9

Tons of satisfied customers (see testimonials below)

You will love our products!

Everyone that uses our products comes back for more. We must be doing something right!

The bottom line is, we love our customers, and our customers love our products!