What is Diabetes? Type 2 Diabetes Symptoms, Signs, & Natural Remedies
Table of Contents
What is Diabetes?
We likely all know someone close to us who has diabetes. It is an incredibly common condition in the US, and it's estimated that nearly 100 million US adults are living with either diabetes or prediabetes. Almost 10% of the population has been diagnosed with diabetes (about 5% of these being type 1 diabetics), and the statistics are even more alarming in children. In recent years, around 3500 children per year have been diagnosed with the condition, and we'll get into why this is so critical later.
Put simply, diabetes occurs when the blood glucose (sugar) in the body is too high. Insulin plays a role here, because insulin is what helps the cells take in glucose, giving them energy. Those with type 2 diabetes mellitus have an issue with increased blood sugar levels and insulin resistance, and the amount of glucose in the blood is too much for the cells to handle. Alternatively, the pancreas of those with type 1 diabetes does not produce enough insulin to handle the glucose in the bloodstream.
These conditions are very different, and they often occur at different times in life. Usually, type 1 diabetes is diagnosed in childhood or, at the very latest, early adulthood. Type 2 diabetes is usually diagnosed in adulthood, although you can see from the statistics above that more and more children are being diagnosed with this devastating chronic disease each year.
What Causes Diabetes?
Diabetes can be caused by a variety of different conditions and lifestyle choices. Let's begin with type 1 diabetes. This condition occurs when the body has destroyed the cells of the pancreas that make insulin, so the body does not produce the insulin needed for the processing of sugar in your body. When you eat carbohydrates, the body breaks them down into glucose for use in the cells for energy. Insulin is needed to transport glucose from the bloodstream into the cells for use and, when insulin is not present, glucose continues to rise in the bloodstream.  It is thought that type 1 diabetes is likely caused by genetics as well as exposure to certain environmental factors, such as viruses, that trigger it.
The more common type 2 diabetes occurs when the insulin the body produces is not recognized as insulin (something called insulin resistance). This causes an increase in blood sugar levels in the bloodstream because the cells are unable to intake the glucose that they normally would. When glucose builds up in the bloodstream, it begins to shear away at the blood vessels, leading to a multitude of issues such as bleeding throughout the body (including the eyes!) Risk factors for the development of type 2 diabetes include a sedentary lifestyle, obesity, high blood pressure, high triglyceride levels, high carbohydrate diets, high alcohol intake, and aging. 
By definition, diabetes is diagnosed as having a blood sugar of 126 mg/dL or higher after fasting for at least eight hours, or by having a blood sugar level of 200 mg/dL or greater after having eaten. A hemoglobin A1C test can also be used to assess for diabetes, as this is the measure of your blood sugar over an extended period of time, and it is often better able to assess how your body regulates insulin and blood glucose. A HbA1c of 6.5% or above signals diabetes.
Diabetes Symptoms and Signs
The symptoms of diabetes can often be so subtle that they go unnoticed, making it difficult for people to know that it's diabetes they're suffering from. Some of the most common symptoms include:
Extreme fatigue
Increased urination
Feeling very thirsty
Feeling very hungry, even though you're eating regularly
Blurred vision
Wounds that heal slowly
Tingling or numbness in hands and/or feet
Yeast infections
Unexplained weight loss (type 1)
Dry Eyes
These are just of the few things you may be experiencing when dealing with diabetes, and keep in mind that everyone is different. If you experience any of the above, it's important to make a visit to your doctor right away. Leaving diabetes untreated and unmonitored is a quick way to more serious complications. If you ever feel sick to your stomach with a bad stomach ache, are peeing a lot, or notice a shortness of breath or bad breath, get to your doctor for an evaluation right away.
Natural Remedies for Diabetes - Food for Diabetics | Diabetic Diet
While many of those with type 1 diabetes may require insulin to live a normal, healthy life, type 2 diabetes can often be avoided through many natural remedies that you can easily do at home. This, of course, should not substitute for a visit to your doctor, but if you follow these steps you may eventually be able to come off of your diabetic medications. The following steps can help to control your blood sugar naturally (and this is not an exhaustive list):
Exercise regularly -

Without exercise, your body is not able to get stronger. Exercise helps the body regulate blood sugar and it increases insulin sensitivity, so that it works more effectively to get glucose into your cells. It may also help you lose weight, which is so important for many diabetics! Great exercises to try include weight lifting, swimming, walking, running, or hiking, but any exercise that you enjoy is perfect. Click here to get started with an exercise plan!

Increase your fiber intake -

Fiber helps to slow the digestion of carbohydrates and helps regulate blood sugar levels. Good sources of fiber include vegetables, fruits, whole grains, and legumes.  Check out our Green Smoothie and Food guide to help with detox and blood sugar levels by clicking here. 

Control your carbohydrate intake -

In your body, carbs are converted directly into sugar for use as fuel. This can exacerbate diabetes because the insulin your body produces can have a hard time controlling all of the extra sugar. If you eat a higher fat, low carb diet, you can better control your blood sugar levels. 

Practice portion control -

This means avoiding the consumption of an entire bag of chips or cookies, but it also means generally eating less at every meal. This may be difficult at first, but you can help yourself out by avoiding all-you-can-eat buffets, using smaller plates (it tricks your brain!), eating slowly, and drinking water before meals. 

Drink plenty of water -

We recommend that nearly everyone drink half your body weight in ounces of water daily. This means that a 150 pound person should be drinking 75 ounces of filtered water daily. Get rid of the sugary coffees, sodas, and sports drinks and replace everything with pure water. Learn more about the importance of hydration here.

Manage stress and get enough sleep -

It may seem silly to mention, but sleep and stress pay a huge role in disease. Poor sleep and high cortisol (found during bouts of stress) can lead to fluctuating blood sugar levels. Keep your blood sugar low and steady by clocking 7-8 hours of sleep per night and practicing stress relieving techniques such as meditation, journaling, and yoga. Get more relaxation tips here.

Lose weight -

Many of the tips above can help you lose weight, and that's because it's so important for your health. Begin by reading more about a plant-based alkaline diet, which can help you control inflammation, manage your blood sugar, and lose weight. Get rid of the processed foods, avoid the drive thru, and eat plants. It's as simple as that. Just a 7% reduction in your weight can help decrease your chance of developing diabetes by over 55%!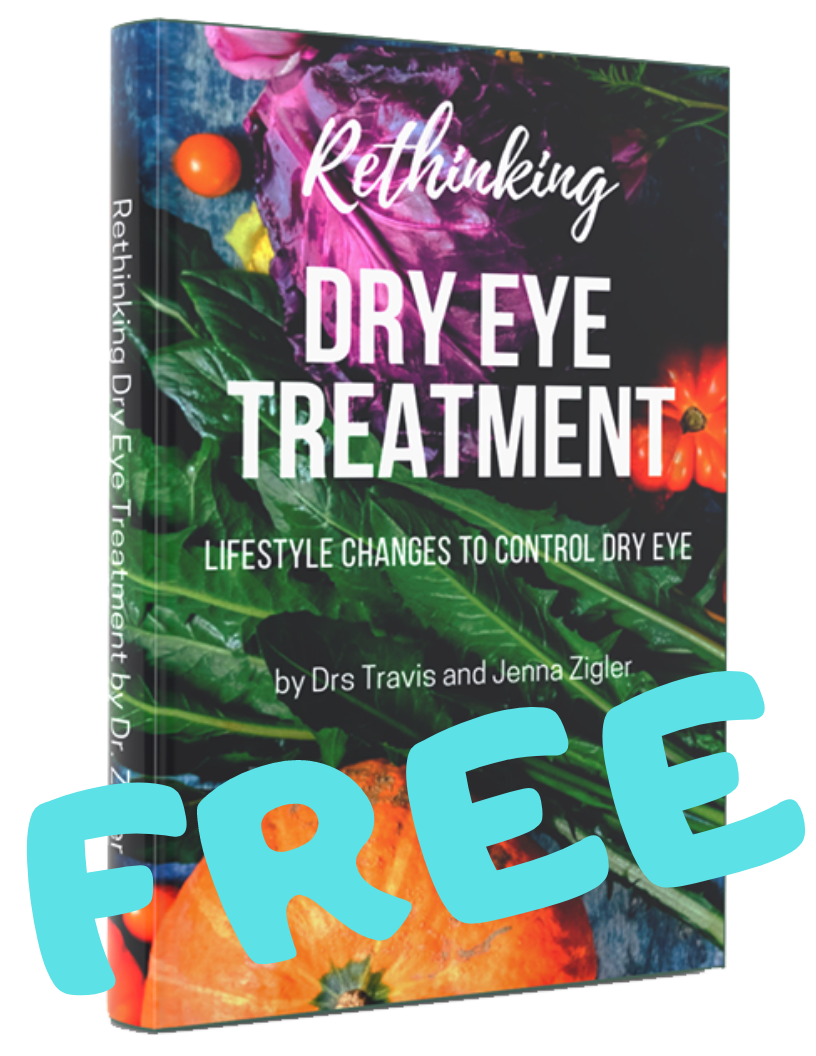 Free Rethinking Dry Eye Treatment eBook
ENHANCE YOUR QUALITY OF LIFE

- Dry Eye Disease can affect your quality of life in many ways. This book will teach you how to get your life back!

FIND TRUE RELIEF

- You'll learn how to stop hopping from one treatment to the next, and find out how to naturally treat your dry eye without medications.

GAIN UNDERSTANDING

- Dr. Zigler will take you on a journey to understand the process behind Dry Eye Disease so that you can conquer yours.

THINK DIFFERENTLY

- This book will cover potential causes of dry eye, treatments you can try at home, and natural remedies. It will challenge you to think about all diseases in a different way and rethink how they are treated.